Links to Stuff That I Find Useful and/or Mildly Amusing...
W o r k R e l a t e d
IAR Page - our home on the net
REALTOR.COM - NAR's Home Page, includes OneRealtorPlace!
Custom Effects - Great Desktop Publishing site
Indiana Boards Online - links to local boards from our web site
IABC Page - International Association of Boring Communicators
M o v i e s, T V, M u s i c, a n d M o r e
Ain't It Cool - Movie news and more. Great for future releases and gossip.
Cinemachine - Movie reviews from all over
imdb - The Internet Movie Database is the best place on the web to find old movie news
Movie Web - Previews to movies
King's X (official site) - good source for news and tour dates
King's X (unofficial site) - better looking site with mostly the same info
David Wilcox (official page) - tour dates and occasionally an update
Vanguard Records - David Wilcox's new label
John Gorka Touring Schedule - someday I will see this man live!
John Gorka Page - links to info about the man, his music, and his eel.
MusicSearch - good site for looking up music information
Del Amitri (official site) - good site for fans
Matthew Sweet Chord Archive - great source for MS guitar chrords
The Choir - kind of a crappy page, but hoping that someday there will be an update
Lowen & Navarro (official) - this is a good site for a band that's hard to find in stores
They Might Be Giants (official) - nice stuff here along with the dial-a-song online
They Might Be Giants (unofficial) - excellent site, lots of info, chords, MIDIs, etc.
Billboard Online - good source for new releases, chart toppers, dersert toppings, etc.
CCM Artist Links - links to CCM artist web pages and more
CCM Online - CCM's start page, can also be used like Billboard for CCM
Jackie Fly - Chad Beck's new band. This week's drummer is.....Doug!
S h o p p i n g O n l i n e - I t ' s N o t J u s t S o f t w a r e A n y m o r e
Amazon - for the most part, no other e-store beats their prices, but it can't hurt to look.
CD-NOW - decent place to find music, but a little pricey.
Barnes & Noble - Trying to give Amazon a run for their money.
CBD - Christian Book Distributor used to be untouchable in choices until Amazon came along.
BUY.COM - great place for a variety of items
Music Force - could be shaping up to be the premier online CCM shopping site!
UPS - Get your tracking numbers to see where your packages are!
J u s t S t u f f
The Journal - a daily dose of...something.
B Plus Chords - chords and links to chords for guitar and bass enthusiasts.
GristlePop - for no reason whatsoever, I give you GristlePop!
Tripod's File Manager - here's where I make the world a better place.
Gridiron Geeks - something else to occupy my time
Card Games - anytime you want to know the rules for a game or learn a new game
Rep. James Atterholt - My state rep, GOP, 86th District
Digicams - See what things look like all over the world.
O n l i n e A u d i o / V i d e o
broadcast.com - good source for online audio & video
Web Events - audio and video links from MSN
Power Source - this is a great site for Christian Alternative Music and cream cheese
ontheair.com - an excellent list of online radio stations and more
Rush Limbaugh Parodies - those songs you hear on his show in RealPlayer format
RealPlayer Zone - more links to audio & video online
Christian Media on the Web - link from the GCN with some good online a/v.

C h u r c h R e l a t e d
Church Art - good source for bulletin clip art.
GFC Avon Page - a really bad page that needs updated!
GFC New Haven Page - a really GOOD page.
CRI - Hank Flanagraf...er...Pendergrass....er...the Bible Answerman
Christian Links from Ligonier Ministries - A reliable source!
Renewing Your Mind Online - RC Sproul on the Net! Wahoo!
Anagrams - I use this for the Youth Bulletins.
The Door - finally, they have a site!
Ray Stedman Discovery Papers - tons of sermons in print and in RA format. Excellent!
VeggieTales site with MP3 sound archives. Neato. - tons of sermons in print and in RA format. Excellent!

F o o d, C o o k i n g, G o i t e r s
Weber Grill Page - tips on grilling and recipes for cookin' up critters!
Cheese.com - all things cheese, look up cheeses, I'm not making this up!

E - M a i l
Fuddsoup Mail - my other source for e-mail. (includes POP mail access for domain & GTE)
Jayzun da Weezul at work
Scott Lameman
IAR Staff E-Mail - E-mail addresses of Staff from our page*

G e n e a l o g y (S h u m a n s & M o r e)
Shuman Genealogy Page - James's page, great place to start
Burns Info - Part of the Scottish Clan Campbell

*Note that Jody (jltuttle@gte.net) and Barb (playdoh2@gte.net) are not on that list!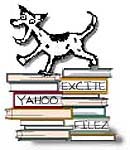 136366-01