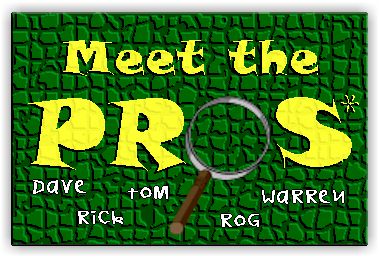 This year's losers:
Rog
He generally runs the joint and typically finishes at the bottom every time. This year, he's worked out a special "deal" with some of the players and owners to keep scores closer to the spread.
Tom
Always a bridesmaid, but never a bride, Tom has threatened to win in past competition (like Gridiron 1998-1999 and the Neckcar Showdown). This year, Tom has invested thousands in a game prediction device. The machine is highly secretive and still under wraps, but suffice it to say that it runs on an elaborate system of ropes and pulleys.
Warren
His holiness is the returning champion and his winning formula is 2,000 years old. Thanks to his exclusive understanding of the Greek New Testament, Warren is able to predict games using the book of Revelation with incredible accuracy.
Dave
Dave stayed in the hunt last year. However, work distractions caused him to pick the Dallas Oven Hoods one week and the the Captive Air Cowboys the next. If Dave can keep his priorities in order (football, television, work, family, church) he will do well in the 1999-2000 season.
Pat
The newcomer will face tough competition. However, his biggest hurdle will be operating a computer to participate in the contest. Newly acquired wife, Luanne, will be a big help in getting Pat online and to the selections. If he can stay online without blowing up his PC, he might be a contender.
Lloyd
The other newcomer is the new brother-in-law of Pat Albrecht. Lloyd sits in front of a computer all-day, much like most of the folks on this list. Lloyd's vast football knowledge focuses mostly on team fight songs and socks worn by punters. Be sure to welcome Lloyd by sending him an e-mail to navinjohnson@thejerk.com (really, that's his address).